"Driver's License": The Start to Olivia Rodrigo's Solo Career
A recent rising star, 17 year old Olivia Rodrigo is shattering the precedents of the music industry. With experience in the Disney television franchise, Rodrigo has previously gained the recognition for her role as Nini "High School Musical: The Musical: The Series." along with a role in the eccentric series "Bizaardvark". In addition to her acting career, Rodrigo has intertwined her abilities to play characters with her expansive singing skills. With great talent, Rodrigo was able to write and sing one of the most popular songs in January of 2020, "All I Want," which was featured on "HSMTMTS".  Pursuing a solo career with her exceptional songwriting skills, Rodrigo released "Driver's License" on Jan. 8, 2021. 
The Story Behind Driver's License 
Because of her role in "HSMTMTS", fans speculated Rodrigo had a secret "fling" with her co-star, Joshua Bassett. The pair were seen being very kind and endearing towards each other for a long time.  However, Bassett is currently 20 years old, and Rodrigo is only 17. There have been rumors spread online about Bassett telling her he will wait until she becomes of age, but there are no confirmations of this. According to fan theories, Bassett's song "Anyone Else," was him expressing his true feelings about Olivia. To which Olivia responded in her song by saying "I guess you didn't mean what you wrote in that song about me." In addition, Bassett's relationship with Sabrina Carpenter furthered the connections between the two when Olivia mentioned a "blonde girl" that is "so much older than her" that is "everything [she is] insecure about". Because this drama was trending on many social media apps, there is also much speculation that the love triangle was just a stunt created by Disney Channel to attract attention to the series. 
"All of the drama behind the song has made it be even more successful, but there is no denying Olivia Rodrigo is incredibly talented," junior Kylie Alvarez said.
Our Interpretation
It is clear that this song is written from the point of view of a young teen who got their heart broken. The hurt can be heard in the high notes of this song, and the amount of emotion is what moves so many people when listening to it. The sound effects of a car in the background really gave listeners a feel into the loneliness and despair that she went through on those night drives.
As mentioned before, Rodrigo expressed that she is insecure about his relationship with this girl, and says,"she's so much older than me." This can be interpreted as her thinking that deep down she is not mature enough to be with the person she truly wants to be with, just because of her age. 
 "I think the strongest massage Olivia was trying to convey was that she is heartbroken from a young love she thought would last forever," senior Candela Perez said. 
The Comparisons to Olivia 
Because of the songwriting skills the singer presented in her first solo, many people have compared her to singer/songwriter/pop sensation Taylor Swift. Swift started her career when she was just 14, singing a record deal and producing many iconic hits of the 2010s. The amount of thought and nuance within each lyric resembles Swift heavily, as Swift is known for being one of the best songwriters in our generation. She has also been compared to Lorde, another popular artist not only because of her lyrics, but because of the intonation in her voice when she sings and the style of the song itself. For only being 17, this is very impressive and can be seen as a start to a triumphant career.
What This Means For Her Career 
Shortly after the song's debut, Rodrigo reached #1 on both Apple and Spotify's top 100 chart, with her idol Taylor Swift directly following her lead. In addition, Rodrigo surpassed Ariana Grade in most single-day streams in Spotify with her new single, with 17.01 million streams worldwide. She also stands in the "Most Played Female Artists" alongside some of the most powerful women in the industry, with 15.72 million monthly listeners.  Rodrigo receiving this much praise and attention from major pop stars is a strong indicator of her success. 
Because Rodrigo's career began on such a high note, we can expect there are many other projects coming her way. All of the positive attention this song has received even allowed this young artist to break records with her first solo. Being put on such a big stage at a young age can definitely be challenging, but many are confident Rodrigo will surpass all expectations put on her. 
[powr-twitter-feed id=cc235ade_1613338048362]
About the Contributor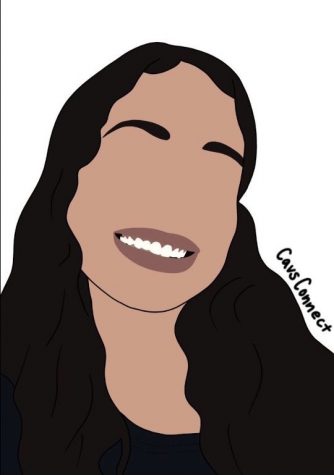 Ingrid Moises, CavsConnect Staff Writer
Ingrid Moises is an International Baccalaureate (IB) junior at Coral Gables Senior High. Returning to her second year in Cavsconnect, she strives to be...