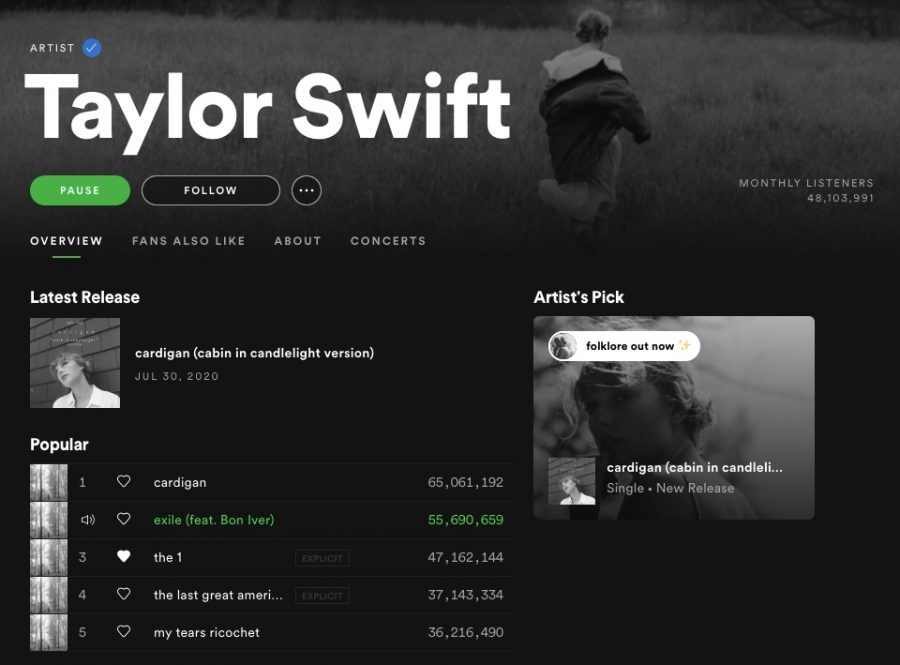 Ingrid Moises
Album: Folklore
Artist: Taylor Swift
Grade: A+
Release Date: July 24, 2020
Genre: Alternative/Indie
For over a decade, Taylor Swift released numerous amount of lyrically genius tracks that have been adored by fans. Swift's music has shaped a generation not only through her music but through her well spoken character and personality. Her latest album, "Folklore," steps into another level by giving listeners a chance to interact with her music through different perspectives. This album also is in a different category than what would  be considered typical of Swift's music, which just displays Swift's ability to be diverse within her music.
This album documents Swift's journey as she reaches a turning point in her career. At a young age, Swift was labelled by critics as a "crazy ex," that can only write breakup songs, and was often referred to as "cringe." Taylor has spoken about her male counterparts that get praised over the same type of music, and do not get labelled negatively at all. Fans, especially on TikTok have made countless videos highlighting her songwriting skills and the fact her songs has been a part of everyone's lives, whether they like it or not.
"The production is impeccable and it is probably one of my favorite albums of hers. People do not give her enough credit for her hard work. They kind of think she is cringe or whatnot but is she honestly an amazing artist," junior Stephanie Andrade said.
In this album, Swift has released songs that are all special in different ways. Fans have voiced their opinions about the album all over social media platforms. Below are some of the more talked about tracks.
Betty, August and Cardigan 
These three tracks are what make this album so distinctive. They tell a story of a love triangle in high school. Taylor provided the same story from three different perspectives, and in "Betty" she even wrote in the point of view of a 17 year old boy. "Betty" gave listeners the point of view of someone that is naive and immature, realizing the person they hurt is noticing her self worth, accurately representing failed teenage loves. The melodies and tones of these three songs fit well together when telling the story. It gives a strong sense of nostalgia towards a summer love. These three songs are the glue to the "Folklore" album simply because they each bring something special on the lyrical level, and contribute to the story Swift is putting together.
"I think that being so interactive within your music is what makes a truly talented artist, and Swift has always proven tat she can step into so many characters, which is why her music is so relatable," junior Kylie Alvarez said.
Exile, ft. Bon Iver
Exile provides a dialogue between the two artists. It is a back-and-forth, talking about a relationship that is no longer working. What makes this track so special is the change in tone between the artists throughout the song. Swift and Bon Iver have very different voices as well. Bon Iver has a rougher voice, as opposed to Swift's softer one. Because of their different voices, this represented the relationship the artists tried to create in the song much more accurately. It displayed the differences in the relationship in a distinctive manner. The music flowed well with the lyrics. This track is one of the best on the album and the most catchy.
The 1
The 1 provides a more upbeat melody but has melancholy lyrics. This provides the listeners a good sense of what a relationship could have been but never was. The melody gives you the feeling that you get when you reminisce a past relationship and start thinking of the hopes and dreams you shared with that person. Certain lyrics hit home for many, for example, "throwing pennies in the pool, and if my wishes came true, it would have been you." These lyrics make people thinking about what went wrong in their past loves and why their wishes did not come true. The 1 is definitely one of Taylor's better written songs, alongside the strategic choice of hopeful melody in the background.
The songs shown above have contributed to the making of a solid album through the unique way in which they told a story, their melodies and lyrics. In conclusion, this album has to be one of Taylor Swift's best ones yet, and she never fails to impress. "Folklore" is one of the most thought-out and strategic albums we have seen in a while.
[powr-twitter-feed id=a4b9911d_1597323083302]