New Jams from El Negrito Ojos Claros
Album: "Aura"
Artist: Ozuna
Genre: Reggaeton
Release Date: Aug. 24, 2018
Our Rating: A
The Puerto Rican artist, Ozuna, proved to his fans how dedicated he is to his music with his new album "Aura". The Latin artist is currently on tour for his previous album "Odisea", and has received both iHeart Music and Billboard Latin Music Awards. Somehow, during the chaos of his busy schedule, he released twenty new songs in his album "Aura," breaking the records for the largest streaming week ever for a Latin album. With his album reaching a top seven spot in the all-genre Billboard chart and number one on top Latin albums, it is clear that fans are loving "Aura".
"I really like a lot of the new songs and I think it's a great album. However, I still prefer 'Odisea,' his previous album," senior Christian Padron said.
Aura
Ozuna introduces the album with "Aura", an example of Ozuna's experimentation with the R&B genre. The slow beat backed up by delicate vocals provides a more chilled out song for Ozuna fans. The slower tempo of the song connects with its message of Ozuna's struggles as an artist, and his self-image is revealed through the track. He mentions how he thinks about what the public will think of him, even though these thoughts are toxic. Ozuna seems to be confused with the reality of what people think of him, so he looks into his mirror seeking an answer. The deeper meaning of the song allows listeners to emotionally connect with him on a more personal level.
Vaina Loca
Featuring Manuel Turizo, "Vaina Loca" is a perfect example of Ozuna's inspiration from top Latin music. This track contains a similar base to Maluma's "Corazón" while still maintaining his own style. Ozuna starts off this track with a slow tempo emphasized by smooth vocals and instruments including the drums and a bass which speeds up the tempo. The acceleration of the tempo leaves listeners involuntarily dancing to the rhythm. "Vaina Loca" is a romantic reggaeton about a woman who is attractive and chased by the singer. Ozuna repeats in the chorus how she is the only one he likes, and how he thinks of her when writing his music.
"Ozuna never seems to fail with his music, 'Vaina Loca' is my jam," senior Emily Espinoza said.
Pasado y Presente
Featuring Anuel AA, "Pasado y Presente" begins with a catchy beat and maintains a quick tempo throughout the track. This song is  Ozuna's signature style, in which he incorporates rap and Latin reggaeton. Anuel AA and Ozuna's duo was a success as they effortlessly trade bars throughout the song, blending their verses together. "Pasado y Presente" leaves people dancing and singing whenever it plays and is arguably one of the best songs on the album.
"'Pasado y Presente' is really great because it shows the musical variety that Ozuna presents in his albums. Many people can relate to the lyrics Ozuna sings and raps in this song especially, where they talk about going back and forth with a significant other in arguments," junior Nayrelia Ramos said.
Through the incorporation of songs of different tempos like "Aura" and "Pasado y Presente", Ozuna provides his fans with a variety of music and demonstrates his exploration with different genres of music. He modernizes his songs with similar beats as top Latin artists such as J. Balvin and Maluma. Although some fans don't love "Aura" as much as "Odisea", this new album is a hit for us and many other Ozuna-lovers out there.
About the Contributor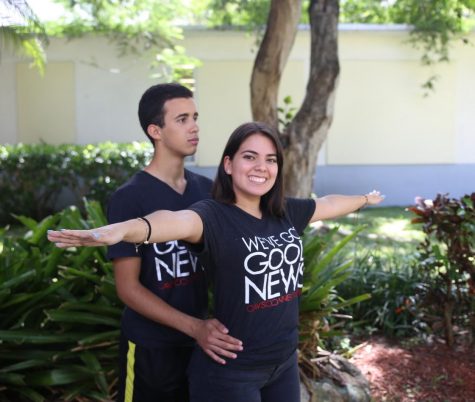 Guiliana Garces, Staff Writer
Guiliana "Gigi" Garces is a senior in the International Baccalaureate (IB) program at Coral Gables Senior High School. As a new member of the CavsConnect...