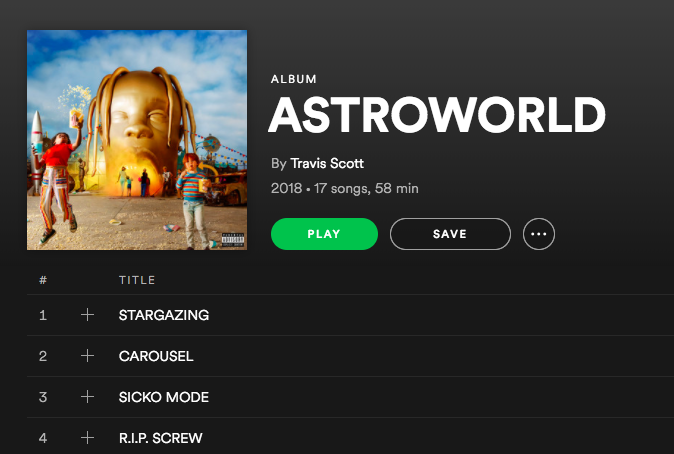 Emily Simon
Album:"ASTROWORLD"
Artist: Travis Scott
Genre: Hip Hop
Release Date: Aug. 3, 2018
Our Rating: A
Released Aug. 3, the much enjoyed "ASTROWORLD" saw all 17 songs make the Billboard Hot 100. Travis Scott, a two-time RIAA Platinum designated artist, had not graced the world with a studio album since 2016's "Birds in the Trap Sing McKnight." The newest album features a roll call of the best in the industry, most notably Pharrell Williams, Quavo and Frank Ocean. Headlined by two singles, "Butterfly Effect" and "Sicko Mode," the album received a Gold RIAA designation only seven days after its release.
STARGAZING 
"STARGAZING" takes listeners on a special kind of trip. In his typical style, Scott autotunes his vocals until they sound creepy. This manipulation of his voice allows for listeners to better understand his message: a description of his drug-fueled love affairs. Midway through, the instrumental minimizes and his voice shifts into falsetto. This can be unnerving to listeners, which only emphasizes the mood Scott attempts to create. Before the song's end, a sample of rollercoaster noises shifts the track into an entirely different beat — revealing that "ASTROWORLD" will take you on unpredictable rides.‭
CAROUSEL
Featuring Frank Ocean, "CAROUSEL" gives listeners a chorus that exudes poetic effortlessness. The drums drop out as soon as Ocean reveals the chorus, which allows listeners to truly focus on the lyrics that continue to build on Scott's message. His blissful, husky voice is heard over delicate chords, creating a sense of serenity for those listening. This track is truly one of the better tracks on the album with a feature because of the way the beat was manipulated so that one is able to truly focus on Ocean's words.
"I love Frank Ocean so being able to hear his work with Travis Scott was awesome," senior Dominique Babin said.
"ASTROWORLD" genuinely presents Scott's message while providing easy, enjoyable listens to his fan base. Scott's elaborate choice of features and his expert manipulation of sounds grants this album a well-deserved A designation in our book.
[powr-social-feed id=618c3672_1535296308932]