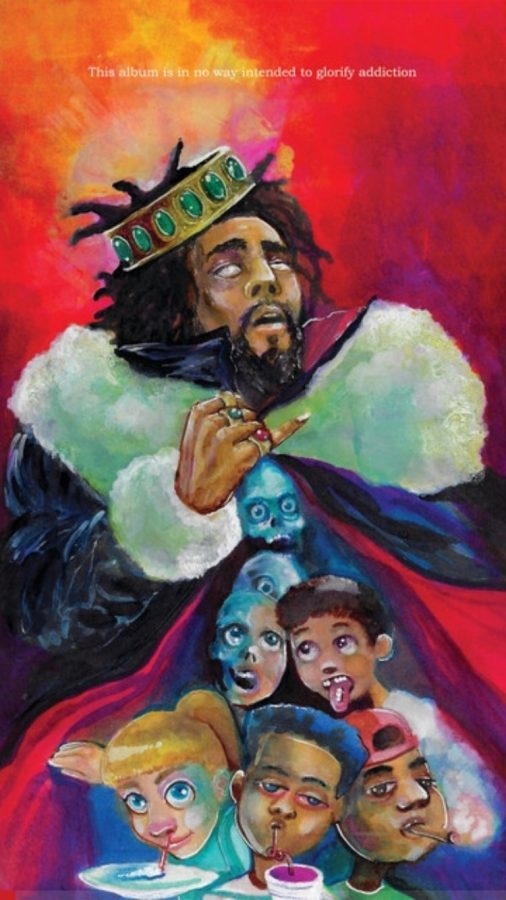 Spotify Music
Our Rating: A
J. Cole's album, released April 20, was one of much anticipation. This album was released only a year after his previous 4 Your Eyez Only and continued the artist's track record of releasing featureless works that never fail to meet expectations. Truly unraveling J. Cole's thoughts on today's music industry, his recent albums have become increasingly critical of drug culture and the importance of celebrities, and they focus on J. Cole as he reflects on his own life and perception of reality.
1985 – Intro to Fall Off
On his new addiction-oriented album, J. Cole urges listeners to stay away from addictive habits such as smoking and drinking: the track 1985 – Intro to Fall Off is no exception. In this song, J. Cole speaks to aspiring rappers about his beginning days in the industry and gives advice on how to approach the overwhelming atmosphere of the rap industry. Referencing his humble beginnings as an 18-year-old entering the musical world, he relates to today's amateurs but goes on to warn them of the faults of today's rap. He talks about an industry that is centered around money and drugs, warning young rappers that getting caught up in this toxic culture is an easy way to ensure that the industry drops you quickly. Although this song provides solid advice to rappers entering the industry, the overall message can be taken as self-righteous because Cole is using his status to dictate what others should do in an industry of self-expression.
"J. Cole's album, KOD, has a strong message throughout every track that truly resonates with the listener while still providing an enjoyable listen," junior Patrick Ales said.
BRACKETS
Centered on institutional governments and their abuse of taxpayer dollars, J. Cole reflects on the painstakingly slow pace that it takes for any change to be made in democracy and the inefficiencies that corrupt the democratic process. Cole explains that he instead prefers to use his money the way he would like to as opposed to funneling it into a world of politics that ignores the groups that he identifies with. The lyrics on this track, along with many others on the album, are accompanied by a diluted melody that allows the listener to focus on the message of the words as opposed to it getting lost in the background music.
"This album truly displays J. Cole's impatience toward our society by clearly defining a message for every song," junior Dylan Carol said.
KOD honestly presents J. Cole's issues with today's interpretation of the music industry and how it has become dependent on drug culture in order to remain relevant to its fan base. Cole effectively communicates the message that music artists should be setting an example for their audience as opposed to feeding into the over-glorification of drugs and partying that ultimately translates into a corruption of today's youth.