The 4th Annual iHeartRadio Music Awards
March 11, 2017
Our rating: A
Picking up where the Grammy's left off, some of the biggest names in music gathered together once again for the iHeartRadio Music Awards on March 5th. Including many artists ranging from Country to Hip Hop, the 4th annual iHeartRadio Music Awards had many performances and surprising wins, here are some highlights from the night:
Katy Perry Presents Purposeful Pop 
As many know, Katy Perry is dubbing her new music as her "purposeful pop era", where she's trying to make a political statement with her music. Perry opened the award show with her latest release, Chained to the Rhythm, where she was joined on stage with kids in newsboy hats and overalls. Perry also sported, what many are calling, her new 'break up look' as she chopped of her platinum locks and rocked a 'Miley Cyrus-esque' pixie cut.
"I honestly cannot wait for any other singles that [Katy Perry] is going to release during the year and I'm also really excited for her new album. With the power and influence she has on social media and fans, she can really make a change in the world-which she really is trying to," senior Gabriela Vega said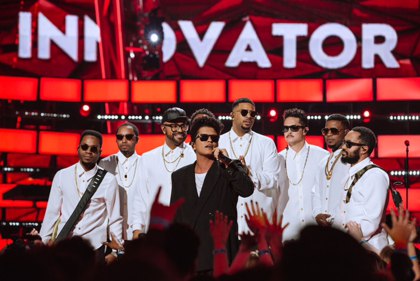 Bruno Mars: iHeartRadio Innovator Award
How do you get the honor of receiving the iHearRadio Innovator award? You be Bruno Mars of course, and have 35 hits on the hot 100 chart. The 31 year-old singer was presented with the most prestigious award of the night to honor the singer's accomplishments and what he's contributed to the music industry.
The Cyrus Clan Claims the Show 
One of the most talked about things from the night was the Cyrus family. The whole family was there to support the youngest Cyrus member, Noah Cyrus, as she performed her latest single "Make me (cry)" featuring Labrinth. As Miley came out on the stage to present her sister she sported an "I love Noah" shirt and poster. After Miley Cyrus's heartfelt introduction, Noah Cyrus performed her single for the first time on the iHeartRadio stage.
"I've been a fan of Miley since her Hannah Montana days so I think it's pretty cool that her sister is going into this industry because at this point it's kind of like a family tradition for them. Starting with Billy Ray Cyrus, then Miley, and now Noah," sophomore Nicole Verdesoto said
The iHeartRadio awards was a huge hit this year. It surpassed what everyone expected by having amazing performances and many unexpected wins.