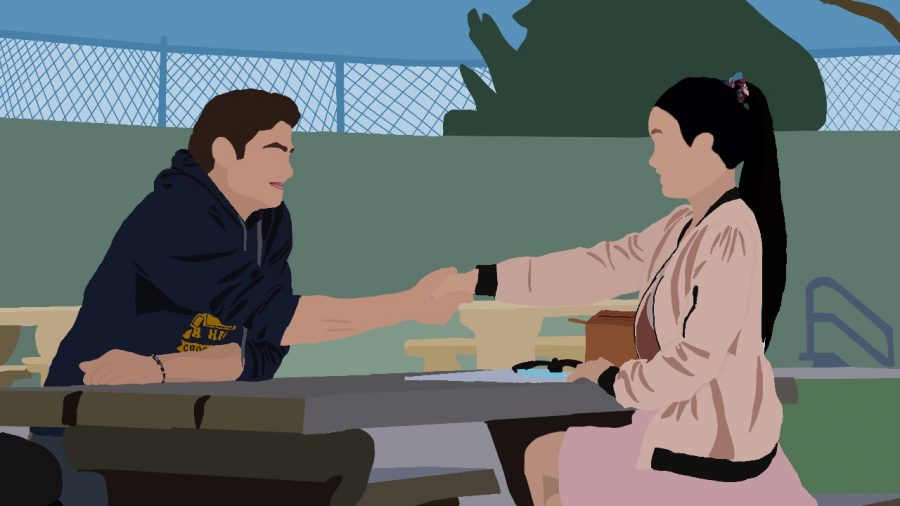 Victoria Mavarez
Movie: "To All the Boys I've Loved Before: Always and Forever"
Release Date: Feb. 12 2021
Cast: Noah Centineo (Peter Kavinsky), Lana Condor (Lara Jean Covey), Anna Cathcart (Kitty), Emilija Baranac (Gen), Madeleine Arthur (Christine)
Our rating: A-
After a long four years since the release of the first movie, "To All the Boys I've Loved Before", Netflix's high school teen romance trilogy has come to an end. The ups and downs of Lara Jean and Peter Kavinsky's love story has been depicted throughout the three movies, each representing a different stage of a stereotypical teenage relationship. Ensuing a disappointing sequel, our anticipation for the third movie was not sky-high, but opinions altered as the movie went on.
In the movie, Graduation is quickly approaching seniors at Adler High School and the couple plans on attending Stanford University together for the next four years of their lives. Everything seems to be according to plan, until Covey's worst nightmares become true. Lara-Jean's rejection from Stanford reflects how not everything in life goes as intended. Her immediate solution is to attend Berkeley university, which is only an hour away from Stanford, but going on a life-changing trip changes her views towards what kind of future she desires.
The plot evolves when Lara-Jean visits New York University and realizes that New York is where she belongs. The cinematography during the college visit was noteworthy, showcasing touristic locations such as the Empire State Building, Radio City Music Hall and Times Square. It offered different sceneries, unlike the past two movies. The constant use of bright colors, whether it be through clothing or decorations, successfully draws the viewer's attention to each scene. The only major downside to the movie was the blue-green tint it had throughout its entirety.
" The scenes in New York were so mesmerizing, it really made me want to visit the city one day and experience it myself," junior Marianpaola Chacon said.
"To All the Boys I've Loved Before: Forever and Always" is the most interesting and exciting one out of all three movies. It focuses on what choices Lara-Jean makes for herself and her future rather than other people. She is finally being portrayed as an adult who is confident in who she is and what she wants. A contrasting side to Peter was also shown, some might even say a possessive edge. It is noted that Peter constantly tries to persuade Lara-Jean into attending Berkley so they can be together, neglecting her academic or social goals for the majority of the movie. It was always about her being close to him, never once did he consider risking his future for her. Kavinsky does end up coming around and accepting the fact that Lara-Jean has to grow in her own ways.
"I really like the fact that this movie showed real life relationship issues unlike the other two movies where their problems were sort of childish. It lets young people realize that a genuine relationship also has its downsides," senior Isabelle Barbery said.
All in all, the third film managed to represent a non-toxic romantic relationship between two teenagers, which is rarely seen nowadays. The cinematography and music, along with the acting, all came together in the end resulting in one of the best endings to a trilogy there is. "To All the Boys I've Loved Before: Forever and Always" was the perfect film to watch on Valentine's Day, single or not.
[powr-twitter-feed id=1b0c7499_1614258260547]