Spooky Films for Halloween Movie Night 2020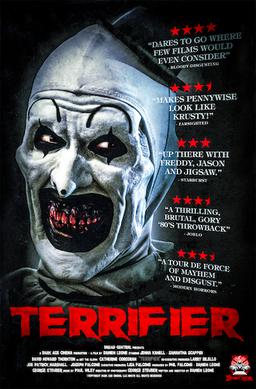 Spooky season is upon us. For now, forget Thanksgiving and start preparing for the pumpkins, dentist visits…and the horror! Since COVID-19 is still prevalent, we might not get much to do on Halloween this year. However, that should not stop us from the tradition of binge watching scary movies. Now some scary movie fanatics are quite disappointed with recent scary movies and do not find the thrill in them anymore, but do not fret! Here are some recommendations on what to binge watch or rewatch this upcoming Halloween.
"The Monster"
Release Date: 2016
Director: Bryan Bertino
Starring: Zoe Kazan, Ella Ballentine
MPAA Rating: R
Our Rating: A
A classic monster movie for the Halloween spirit, "the Monster" follows the story of a dysfunctional mother-daughter duo who are stuck in a misfortunate situation where they have to fend off a monster who lurks outside their broken-down car. This movie is about growing up with challenges and redemption. The monster design was not that impressive, but the real scares do not come from the monster, but from the tension. The acting is very realistic and relatable, which draws you deeper into the characters. The ending was also unexpected and fitting for the movie. This movie was a great thriller and deeply developed its characters.
"The movie's acting was really well done, and the relationship between the mother and child made me relate a lot," freshman Kimberling Rivera said.
" Hush"
Release Date: 2016
Director: Mike Flanagan                                                                                                                                    Starring: John Gallagher Jr., Kade Siegel
MPAA Rating: R
Our Rating: A
"Hush" follows the deaf protagonist who lives in solitude in the woods. Her quiet, peaceful life comes to a halt when she suddenly has to fight for her life with a huge disadvantage: she is avoiding a masked killer. The cinematography was great as well; to represent the deaf protagonist's world, various ambient sounds were used, such as the sound of ultrasound machines. The movie has these scenes in which are supposed to be the protagonist's thoughts on what she can do to escape the killer. The acting from both the protagonist and antagonist were top-notch, which added to the thriller factor of the film. Her situation is reflective of the difficult challenges we face throughout our lives, made to take advantage of personal weaknesses. Shutting down many classic horror movie cliches, this movie is at times unpredictable, and relentless. If you want to be at the edge of your seat and paranoid, then "Hush" is for you.
"
My favorite ones were 'Gerald's Game', 'The Autopsy of Jane Doe' and 'The Monster. 'Those movies were relatable, emotional and one of the best thrillers I've watched."
— sophomore Hillary Rivera
"The Autopsy of Jane Doe"
Release Date: 2016
Director: Andre Ovredal
Starring: Emile Hirsch, Brian Cox, Olwen Kenny
MPAA Rating: R
Our Rating: B+
"The Autopsy of Jane Doe" is about a father-son autopsy duo who are tasked to figure out the cause of death of an unidentified woman's corpse, but soon find out the women's secrets are more than skin-deep. The theme is that everybody has a secret, and some are hidden much deeper than others. The movie has its own elements of gore and suspense, making viewers cringe and look away from the screen in horror. One issue with the film was the ending, which was disappointing compared to the long build-up, but you are sure to enjoy the everlasting suspense of this movie.
"Terrifier"
Release Date: 2016
Director: Damien Leone
Starring: Jenn Kanell, Samantha Scaffidi
MPAA Rating: R
Our Rating: B-
'Terrifier" is known for the amount of carnage in its movie. 'Terrifier" follows the flashback of an interviewee who tells her survival story of a killer clown who abducts her and two other girls, and proceeds to kill in brutal ways.This movie's acting is subpar and the plot is lacking as well, but if you are a blood and guts fan, then this is a movie for you. The killer clown costume alone is terrifying enough to cause nightmares. Regardless, it is a great movie for Halloween to watch with family.
"This movie was so gory, it was certainly gross and hard to watch, which makes it a great horror movie for those thrill-seekers on Halloween," freshman Manuel Espinoza said.
"Gerald's Game"
Release Date: 2017
Director: Mike Flanagan
Starring: Carla Gugino, Bruce Greenwood
MPAA Rating: TV-MA
Our Rating: A+
When Jessie's husband dies of a sudden heart attack, Jessie, the protagonist, is left handcuffed to her bed without the key and with little hope of rescue and must find a way to survive, all while battling her inner demons."Gerald's Game" is an amazing thriller movie with great acting from the cast, great visuals, and great plot twists. Childhood trauma is a recurring theme that Stephen King portrays in this story, with sexual assault also being touched upon. You will experience scares, confusion, tension, and hope while watching this movie. This movie is great at making the viewer think and it is a worthy watch for the upcoming spooky season.