Classic 80s Movies: Are These Worth The Watch?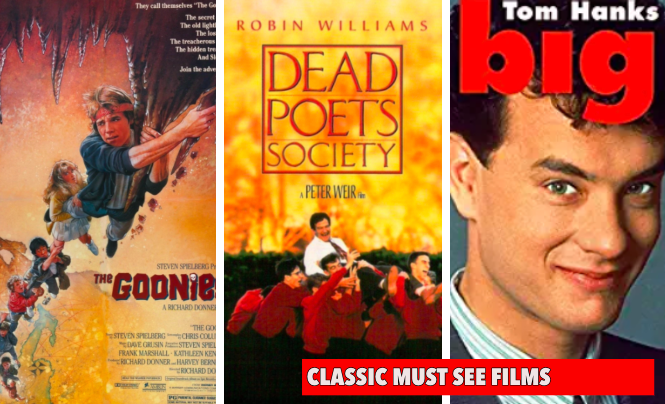 Now that self-quarantine is the new normal, everyone has a great deal of time on their hands. As the days combine into one, many are having a difficult time finding new activities to do, alongside the schoolwork assigned. Besides going out for a run or eating snacks what else is there to do? Well, luckily many film networks have offered complimentary services for a limited time so people can finally watch the movies they have been dying to see! Besides the networks, there are an abundant amount of incredible films out there, with magnificent directing and cinematography. Movies bring people together and spark a great conversation. With that said, here are some must watch classics that are definitely worth the watch.
---
Title: The Goonies
Release Date: June 7, 1985
Cast: Sean Austin (Mikey), Josh Brolin (Brand), Corey Feldman (Mouth), Jeff Cohen (Chunk), Jonathan Ke Quan (Data), Martha Plimpton (Stef), Kerri Green (Stef), Robert Davi (Jake), Joe Pantoliano (Francis), Anne Ramsey (Mama Fratelli)
Director: Richard Donner
Rating: PG
Our Grade: A+
Taking us back to the 80s, when there were no phones or internet, adventures were common amongst an energetic group of boys. The Goonies is a timeless film about a group of best friends on a quest to find a pirate's (One-eyed Willy) long lost treasure in order to save Mikey and Brand's house from being destroyed to create a new country club. Produced by Steven Spielberg and written by Chris Columbus, The Goonies was destined to be one of the all time greats. The movie starts with a prisoner escaping from jail with the help of his criminal mother and brother. As the police chased them all throughout the small town of Astoria, Oregon, the gang curiously watches, unknowing that the Fratelli's will soon be chasing them through the underground caves to find the treasure. The friends were filled with energy while at Mikey and Brand's house, when they decided to look in the attic, where their father stored antiques from his museum. Mikey stumbled upon a treasure map that he remembered from when he was little. Thus sparked the idea to begin their quest which included tying up Brand in his old school gym equipment. No cars, no phones, and no GPSs, they all had to rely on each other and the worn out map. 
The uniqueness of this film is unparalleled by any film made during that decade. From the outfits to the soundtrack, the seemingly insignificant details played a key role in making this a beloved film. Unlike many new movies, the director really wanted to emphasize the child actors' friendships to one another on and off the screen. The dialogue of this movie is fantastic, with Mouth being the sarcastic friend to Chunk being the friend who could not stop eating. Each character had complex personalities and proves that unlikely friendship is one of the most important bonds that can be had.
"
The Goonies is such a great movie that everybody must watch at least once in their lifetime. A family friend lent us her DVD of it when I was around 6, and my siblings and we loved the movie so much we never returned the DVD. Often, my siblings and I will quote some of the iconic phrases when talking! "
— sophomore Sabrina Bonavita
Title: The Dead Poet's Society
Release Date: June 2, 1989
Cast: Robin Williams (John Keating), Ethan Hawke (Todd), Robert Sean Leonard (Neil), Josh Charles (Knox), Gale Hanson (Charlie), Dylan Kussman (Richard), Allelon Ruggiero (Steven), James Waterston (Gerard)
Director: Peter Weir
Rating: PG
Our Grade: A
The Dead Poet's Society is an underrated coming-of-age gem from the 80's that tells the story of a group of high school seniors at an all-male boarding school in Vermont. The group of students all have difficult back stories and have yet to find their calling until placed an unusual English class. Robin Williams plays John Keating, the new teacher who helps the students learn about their true selves. They go against the strict rules of their boarding school to become submersed in the world of great literature. He is a strong believer in the power of poems and innovative teaching styles, that at first were extremely strange. As the film progresses, Neil finds out about the secret Dead Poets Society club that Mr. Keating was apart of when he was a student at Welton. This sparked the boys idea to head of campus to a cave where they could freely discuss poems and even compose their own. The group goes against the strict and practically masculine rules of their boarding school, to be who they want to be. The film was ahead of its time in some ways and people of any age can extract a meaning from it.If Perks of Being a Wallflower and Ladybird are some of your favorite films, this movie is for you.
The movie won an Oscar for best cinematography in 1989 and it is hard not to understand why. The scenery of upstate Vermont to the way certain scenes were shot set the tone for the movie. The last scene of the film is considered one of the all time best endings because of the simplicity of it. The Dead Poets Society is definitely is a bittersweet tearjerker, but the complexity and differences amongst the group of boys shows how passion for something can be a driving force into unity and friendship.
"This film is one of my all time favorites. The deep rooted messages throughout the film are brilliantly brought about. The film's ending was the scene that stuck with me the most. The raw tenderness between the boys and the soon to be fired teacher shows how impactful teachers are in helping teens navigate the harsh realities of growing up," junior Sara Rabell said.
Title: Big
Release Date: June 3, 1988
Cast: Tom Hanks (Josh), Elizabeth Perkins (Susan), John Heard (Paul), Jared Rushton (Billy)
Director: Penny Marshall
Rating: PG
Our Grade: B+
Big is a journey through Josh's new adult life in New York City where he has to navigate having a job and girlfriend all while he is actually only 12. Played by Tom Hanks, the main character went to a town fair where he stumbles upon an old arcade game that grants wishes, so he wished to become taller. Clearly, the magic arcade game misinterpreted his wish, turning Josh into thirty year old man the following morning.
An all time family favorite, this film highlights the importance of taking advantage of being young. The film captures the difficulties encountered while being an adult who has yet to find their way. For many adults, the film reminds them of their adolescence and navigating life on their own. Although the film is slightly cliché, it is an all-time comedic "classic" that must be watched at least once.
---