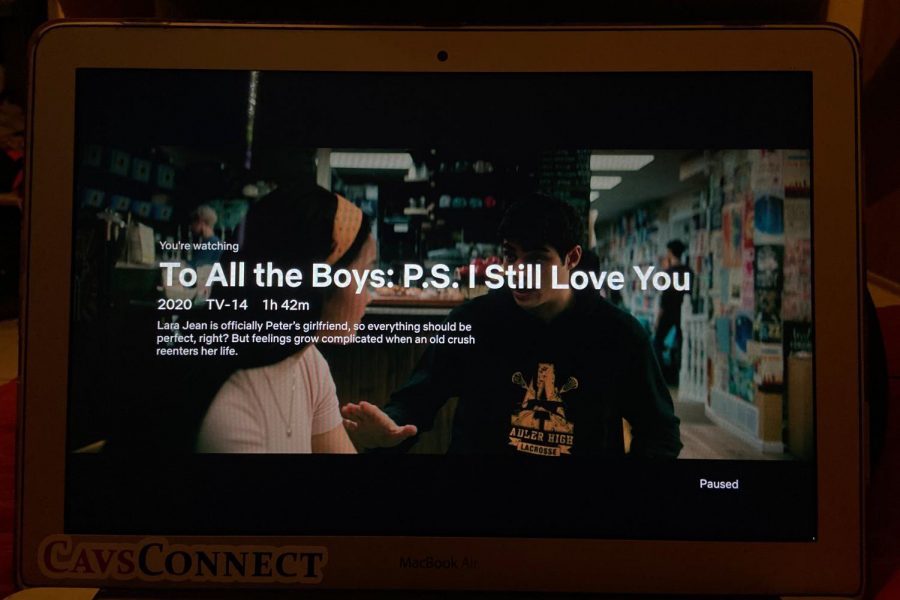 Allison Cajina
Movie: To All The Boys: P.S. I Still Love You
Release Date: Feb. 12, 2020
Starring: Noah Centineo (Peter Kavinsky), Lana Condor (Lara Jean Covey), Jordan Fisher (John Ambrose), Emilija Baranac (Gen)
Our Rating: C+
The sequel to "All The Boys I've Loved Before" was hotly anticipated for two years after the first movie melted viewers' hearts. This movie was meant to reveal how Lara Jean and Peter's relationship has evolved since the first time we saw them together, but with a new obstacle in the way of their "love", John Ambrose. The sequel had potential to wow the audience, but it simply did not have enough excitement to it.
Starting off, the movie showed Lara Jean and Peter going on their first date together, which was pretty heartwarming. The style of the movie was similar to the first one, but it included more family scenes that made it feel more personal. The producers also included scenes involving the family's Asian traditions that originate from the deceased mother's side, a nice touch that some people were able to relate to. There is an incredible amount of diversity here at Gables, but unfortunately students from different backgrounds do not always get representation in the media.
The first movie is based on the reactions of the people who have received Lara Jean's love letters, the second one not being much different. Beginning with her childhood crush reaching out to her and actually writing back to her, putting a twist on everything happening, she begins to doubt her feelings for Peter, which is pretty maddening since she spent so much of her time trying to get Peter to like her in the first place. Her and Peter's relationship appears childish and immature. They do not know how to communicate their feelings to each other clearly, causing problems between them in the film.
The beginning of the movie was painfully slow; it took a while to get to the interesting parts and when it finally did, it was rushed through. After Lara Jean expresses her indecisive feelings, everyone was anxious to see what would happen between her and John Ambrose. When their scene together approached, it was over in a minute. It would have been nicer for them to have spent more time together. She immediately runs away, where she spots Peter waiting for her in his car. At this moment one can tell that Kavinsky truly loves Lara, but does she love him back?
"I feel like the first movie was more attention-catching and taught more lessons than the second film. It was not the worst but could have been better," sophomore Camila Ruiz said.
Something well-done is how they portrayed complications that a real-life relationship would have. For example, Kavinsky and Covey want to join different clubs, but also want to spend time together. Ultimately, they choose to do their own thing which is more realistic than if they were to choose to be together all the time. Another instance is when Lara Jean becomes envious of Peter's past relationship with Gen. This is an all-too-common problem that presents itself in most relationships. In theory, the scenarios were valuable but the way the execution of the scenes was cringe-worthy.
"I genuinely enjoyed the movie since I am a sucker for rom-coms, but I can see why others did not really like it as much as the first," sophomore Rebeca Morejon said.
"To All The Boys: P.S I still Love You" continues the tradition of a sequel not living up to its expectations. Viewers awaited a much better story from the sequel and were quite disappointed. This romantic teen film was predictable seeing how the ending is written in the title "P.S I Still Love You" and too basic. Rumors of a third movie have been circulating the internet so if they prove to be true, hopefully, it will be a cut above the sequel.
[powr-twitter-feed id=1dcb1ff8_1583346566653]