Jumanji: The Next Level of Family Film
Director: Jake Kasdan
Cast: Dwayne Johnson (Doctor Smolder Bravestone), Jack Black (Professor Sheldon Oberon), Kevin Hart (Franklin Finbar), Karen Gillan (Ruby Roundhouse), Alex Wolff (Spencer Gilpin)
Release Date: Dec. 20, 2019
MPAA Rating: PG-13
Our Rating: B
A year after the events that occurred in the film "Jumanji: Welcome to the Jungle", the group that originally entered the game is forced to return. When Spencer Gilpin, played by Alex Wolff, begins to reminisce on the avatar he embodied in the video game, he rebuilds the console and jumps back into the game. With his friends eventually discovering Spencer's actions, they go back in as well in an attempt to rescue him and return to reality. But where the plot initiates a more complicated obstacle is when it is discovered that not only have they been placed in randomly selected avatars, but Spencer's grandfather and elderly friend have been sucked into the game as well, not having a clue what they are in for.
"I thought the movie was really funny and I do not agree with the rating either, it was a family friendly movie that I would watch again," freshman Melina Telleria
As the group goes their separate ways after high school, they seem to be doing well in life. When Spencer moves to New York, he quickly realizes how tough it can be on his own, especially being separated with his girlfriend, whom he idolizes for her amusing life in college. Once becoming jealous of his friend's eventful lives, he begins to reminisce on his time in Jumanji and the avatar he embodied, this being the entirety of the reason why he goes back into the game.
"
I personally did not enjoy the movie and found it does not live up to the original 'Jumanji'."
— Zarah Correa
The story line could have easily been altered to a more dramatic motivation as to why Spencer returns, but the authenticity and how relatable his reasoning was gained sympathy from the audience. The crew made the right decision by going through a more authentic route to create the motivation and it gave the movie a more serious undertone, which balances out its comedic aspect.
Although being rated PG-13, the movie is appropriate to watch together as a family that just about any age range can enjoy. It has its own comedic style that fits the theme of the movie. The movie being a goofy, family comedy movie, the creators were aware of what category the movie they were making would fit into best. They did not attempt to overshoot the concept with exaggerated computer-generated imagery or a serious mood. Of course, the overall mission and Spencer's insecurities were meant to be taken seriously, but a balance is created when screenwriters add in all the light-hearted jokes. It is appreciated that the movie did not attempt to be more than it is and was kept humorous and family friendly throughout.
"Jumanji: The Next Level" is recommended whenever you are with family or just in need of buoyant humor. It offers something to just about any age range, age-appropriate humor for younger children and a relatable undertone for their mature audience. It is not an exceptionally memorable movie, but it passes the time and it is a good watch. If you ever find yourself in a bored, light-hearted mood, watching Jumanji's reboot's sequel might just be the perfect remedy.
About the Contributor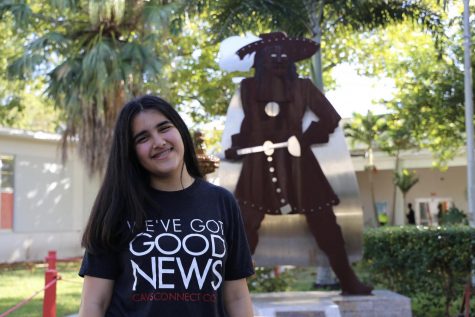 Annabella Rivera, Staff Writer
Annabella Rivera is a freshman anticipating her entrance to the International Baccalaureate (IB) program at Coral Gables Senior High School. She is a focused...