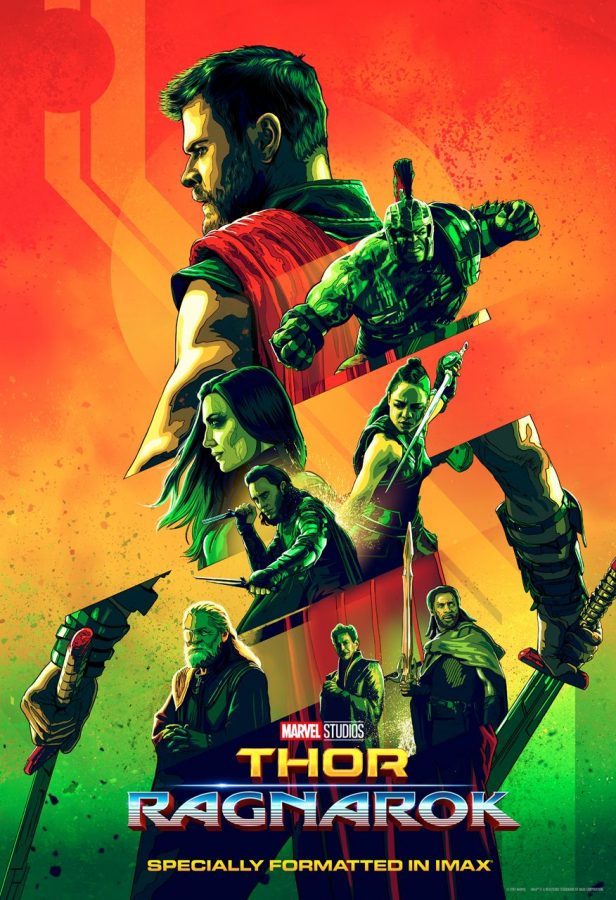 Marvel Studios
Release Date: November 3, 2017
Director: Taika Waititi
Starring: Chris Hemsworth (Thor), Cate Blanchett (Hela), Tom Hiddleston (Loki), Mark Ruffalo (Hulk),
MPAA Rating: PG-13
Our Rating: A+
Superhero movies have a history of being tricky. On one hand, directors have to make them appealing to a fan base that already knows all about the plot and characters, but on the other hand, they have to make them appealing to the general public (this is often done by including sequences of intense action or romance). Sadly, in the cases of many movies, such as the original 2002 "Spider Man" movie, it can be difficult to incorporate all those aspects while still making it enjoyable to watch. However, the 2011 movie "The Avengers" accomplished the seemingly impossible task, and even incorporated large amounts of comedy. "The Avengers" began a new age of comedic action and superhero movies, headed by Marvel Studios. The most recent movie by Marvel Studios, "Thor: Ragnarok" is no exception. Mixing scenes of thrilling action with side-bursting comedy, "Thor: Ragnarok" is certain not to disappoint both long-time fans and people who simply want to watch a good movie.
This episode in the ongoing saga following Thor breaks apart from the others in the sense that it is now more like all the other Marvel movies. Past Thor movies have been less humorous than other Marvel movies, but the new director, Taika Waititi (a stand up comic), ensured that "Thor: Ragnarok" was side-hurtingly funny, something that really helped make the movie appeal to a larger audience. Prior to "Thor: Ragnarok," the people that watched Thor movies only went because of Marvel, action or Chris Hemsworth. Now, people can go for all of those things, plus the comedy people have grown accustomed to from Marvel.
As usual, the movie is what you make of it, and only the watcher can decide if they enjoyed it, but as with most movies I review, "Thor: Ragnarok" is fantastic for people of all ages and plot-thematic inclinations, and anyone that watches it is almost certain to have a blast.
[powr-poll id=88d4ee89_1510667675777]