Our Rating: C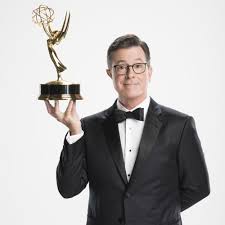 The 69th Primetime Emmy Awards were televised last Sunday, September 17, 2017, on CBS. Stephen Colbert, as host, led the countless laughs from today's television superstars. New and past nominees were all excited to get the golden award at the Microsoft Theater in Los Angeles, California.
Although 26 Emmys were distributed on Sunday, these are the winner highlights:
After 42 seasons and 42 years of comedic skits, "Saturday Night Live" received the title "most nominated show in Emmy history". Lena Waithe from "Master of None" became the first African-American woman to win outstanding writer for a comedy series. As a member of the LGBTQ+ community, Waithe wrote a powerful episode on coming out. Donald Glover became the first African-American to win best comedy directing for his work "Atlanta." Glover's historic win was well-deserved as his hard work as a real rapper was incorporated into his comedic fictional rapper life on "Atlanta." The 5 Emmys won by "Big Little Lies" show their hard work to represent an unrealistic drama about family and how complicated it can get. "The Handmaid's Tale" also received 5 Emmys in total. As a show that represents women not as objects, these Emmys were well-deserved.
"I was sad about 'Game of Thrones' not being nominated due to the cut off date but, this year's Emmys were not the best but, not the worst," sophomore Jefrany D'Catry said.
A large percentage of recent comedy skits are based off of the current political power in the United States, President Donald Trump. The president was directly referenced throughout the night. Most of the viewers of this year's Emmys enjoyed the mockery, however, there are other viewers that automatically turned off the TV. The divide in society due to political differences did create a tremendous low for last Sunday's viewer percentage.
"I found the Emmys boring and repetitive because the jokes said were basically the same jokes on their TV shows," sophomore Sophia Martinez said.
As a surprise cameo for Melissa McCarthy (famous for her role in which she mocked Sean Spicer on Saturday Night Live), the former White House Press Secretary spoke a few words for the speechless audience. "This will be the largest audience that will ever witness the Emmys period. Both in person and around the world," Sean Spicer said. However, this year's Emmy Awards had one of the lowest ratings compared to last year's Emmys which Jimmy Kimmel hosted. The Emmy Awards as a whole decreased in popularity over the past years because today's generation has been re-watching past TV shows instead of watching the newer ones. If a show is broadcasted on HBO, Hulu or Netflix, only viewers that pay for those programs are eligible to watch, opposed to others who cannot pay for any of the programs.
The Annual Emmy Awards were established in 1948, yet this year's Emmys proved to be a disappointment in a political and economic stance.