To the Bone: The Ugly Truth about Eating Disorders
Release Date:  July 14, 2017
Directors: Marti Noxon
Starring: Lily Collins (Ellen), Keanu Reeves (Dr. Beckham), Carrie Preston (Susan)
MPAA Rating: TV-MA
Our rating: A-
There's nothing to romanticize when it comes to the hardships of a mental illness, especially an eating disorder. Nothing pretty about disgorging a half eaten meal, and absolutely nothing beautiful about being the silhouette of a walking skeleton. That's the thing about eating disorders, their prisoners don't have a clear image of what their bodies really look like. To the Bone, despite its controversial subject, sheds harrowing insight onto life with Anorexia.
The Netflix original, slightly based on Noxon's past struggles, is a powerful film that is not for the faint of heart. Ellen, who is still struggling with Anorexia in her 20's, obsesses over a number of calories found in different types of food. Although Ellen has a supportive family that wants her to recover, she doesn't find the courage or the drive to. To the Bone reminds viewers that there isn't a specific reason as to why someone may have an eating disorder, which is sometimes the reality of many victims. Noxon depicts eating disorders as an addiction throughout the movie. The message that only you can save yourself is repeated through the journey of Ellen's recovery.
Viewers who have suffered from eating disorders or are currently suffering can relate to Ellen's obsessive nature. Noxon makes sure that the film is infused with the shocking reality of eating disorders. The film doesn't glamorize the ugly truth about eating disorders, it shows the gritty effects starving you has on your body and life. Even though there are many scenes that are painful to watch, Noxon lightens the mood by including sarcastic and hilarious moments between the characters; To the Bone has the perfect balance of grimness and happiness.
"I'd say that To the Bone does in a way show how some people dealing with eating disorders cope in different ways like through sarcasm and jokes, but try to keep a positive out look on the grim situation but sometimes fail to do so. Many victims feel like they can't continue but sometimes they recover and come back up stronger," junior Gabrielle Torna said.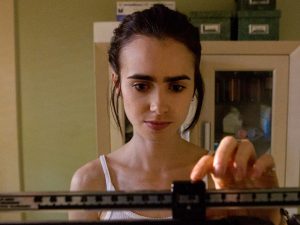 Although the love story found in the movie adds a great level of entertainment, it can sometimes overshadow the attention paid to the message of the film. Noxon should've focused a bit more on the true struggles victims face instead of adding as many love scenes. Another thing that can be criticized is the lack of resources being displayed before or after the movie. It would've been appropriate to show viewers where they can get help if they are currently suffering or if a person they know is.
"To the Bone sheds light on a prominent issue that society often shies away from recently and certainly, the movie transmits the importance of eating disorders awareness through a different light," junior Nicole Verdesoto said.
To the Bone is a phenomenal movie that is bound to make you cry and laugh. While the movie can be triggering for some, it's still raising awareness for eating disorders and its victims. Movies like To the Bone spark conversation about what remains something of a taboo subject and help victims seek out help.