Boss Baby: A Boss You Won't Hate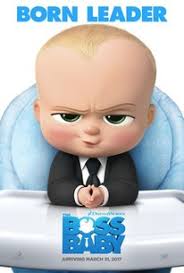 Release Date: March 31, 2017
Director: Tom McGrath
MPAA Rating: PG
Starring: Alec Baldwin, Lisa Kudrow and Steve Buscemi
Our Rating: A
DreamWorks Animation and the director of Madagascar worked as a team to allow the creation of a movie that features an unusual baby. Wearing a suit and taking form under the wit and direction of Alec Baldwin, "The Boss Baby" is a story that resonates with all audiences as it takes on personal challenges faced by every family.
"Boss Baby was a funny movie that kept me entertained through witty dialogue intended to keep adults and older children intrigued," sophomore Dominique Babin said.
Inspired by the popular picture book of Marla Frazee, the film addresses the difficult topics of sibling rivalry in a lighthearted manner. The story is told from the point of view of a narrator who can be characterized by enjoyable undependability, a 7 year old by the name of Tim. Tim struggles with the insecurity that the love of his parents will be taken from him and placed on the new-found Boss Baby.
Not surprisingly for a film about babies, there's also plenty of potty humor, an explosive fake-barf sequence, bare baby bottoms, and use of words like "fart" and "doody." Other scenes include some insults including a scene in which it's implied that Tim tried a Long Island Iced Tea and did not enjoy the taste.
"
My friends and I went to see Boss Baby as a way to joke around and see a movie that was not intended to be serious, but all of us ended up being very intrigued and having a good time,"
— sophomore Brianna Curran
The incomparable Boss Baby, voiced by "30 Rock" star Alec Baldwin, makes the idea of a corporate infant all the more believable as hearing his distinctive voice coming from a cartoon infant as well as making the movie all that funnier. The contrast between the helpless infant and corporate man makes for a good laugh, but can be seen as a difficult concept for a child to understand.
Incorporating messages highlighting the importance of family, DreamWorks' "The Boss Baby" is an authentic film which can appeal to all members of the family.