74th Annual Golden Globes
January 11, 2017
Our Rating: A
On Sunday Jan. 8, 2016, A-list celebrities walked down the red carpet at The Beverly Hilton in Beverly Hills, California as they celebrated the best in film and American television during the 74th Golden Globes Awards. Host Jimmy Fallon kicked off award show season, and the night was filled with surprising wins and unexpected upsets.
La La Land Sets Records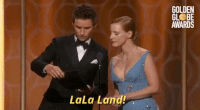 giphy.com
This year, critics and people alike fell in love with the celebrated film "La La Land," which took home all seven of the awards it was nominated for, breaking and setting the record for the number of awards given to one film. Its nominations and awards include: Best Musical or Comedy Motion Picture, Best Original Score and Best Director of a Motion Picture.
"I didn't really see it as the Golden Globe Awards, I saw it more as the La La Land Awards because they took home awards for all the categories they were nominated in. This year there was a lot of tough competition for all these awards because the movies that were all nominated did so well in the box office and so many people have been talking about how great they are," sophomore Karina Wu said.
Surprising wins, Confusing Loses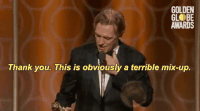 giphy.com
Although many weren't surprised with all the awards La La Land won, many were confused with other winners and those movies that weren't able to win any awards. One of the more confusing winners was "The Crown," that beat out "Game of Thrones" and "Stranger Things" for Best Television Series-Drama. Many people were also upset after the critically acclaimed movie "Lion" didn't receive any awards after being nominated for Best Drama Motion Picture, Best Original Score, and Best Supporting Actor/Actress in a Motion Picture.
"After watching Lion for the first time I was just so impressed with the screenplay and the adaptation of the book that I had gone a second time with friends because it was honestly one of the best movies I've seen in awhile. Although it was missing parts from the book, they obviously had to change things around to be able to convert it into a movie," senior Thomas Martinez said.
Streep Steps up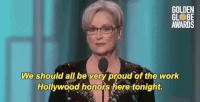 giphy.com
After taking the stage to receive the Cecile B. DeMille lifetime achievement award, Meryl Streep gave an emotional and very political speech. During the race to for the White House, Streep campaigned for Hillary Clinton, so as she took the stage, it gave her the opportunity to make indirect jabs at the newly elected president Donald Trump. "Disrespect invites disrespect, violence incites violence. And when the powerful use their position to bully others, we all lose," Streep preached. Many Trump supporters took to social media to call her out on her indirect comments.
Nowadays, political talk seems to take up most of people's lives; Hollywood helps citizens relieve the stress felt when discussing politics by poking fun at them and helping people forget about the world around them. The night was also filled with tears as the award show honored the late Debbie Reynolds and her daughter Carrie Fisher. Although many did not win an award, the honor to be nominated and to be in the presence of the best of the best in film and television is enough. Thanks to those nominees and winners, there are new shows to binge watch and films waiting to be loved.