Star Wars: A New Hope for the Franchise
*SPOILER ALERT*
Release Date: Dec. 18, 2015
MPAA Rating: PG-13
Director: J.J. Abrams
Writing Credits: George Lucas
Stars: Rey (Daisy Ridley), Finn (John Boyega), Han Solo (Harrison Ford), Princess Leia (Carrie Fisher), Kylo Ren (Adam Driver), Luke Skywalker (Mark Hamill) and more!
Our Rating: A+
Star Wars: The Force Awakens is reviving the Star Wars franchise. It brings a fresh start for Star Wars and for fans. Since the last movies were phenomenally bad, fans have had high expectations for this film to make up for them, and it has been succeeding in this endeavor. Its success is due in part to its use of minimal computer generated effects and well-done practical effects.
They also commissioned the original composer of the Star Wars score (John Williams), who did an excellent job at providing an atmosphere much like the originals. Coupled with the return of former stars, this movie feels like a Star Wars family reunion.
The following paragraph contains spoilers about Star Wars: The Force Awakens. If you do not wish to see this, please don't read beyond the photo.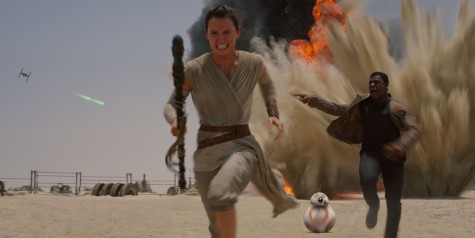 One of the downsides of the movie is that its plot nearly completely mirrored the original, with the antagonists fabricating a planet-destroying machine that can only be destroyed through a small ventilation shaft that just happens to render the thing useless. But the similarities can be justified due to how Kylo Ren seems to worship Vader constantly.
"I though it was one of the best films in the Star Wars series. The visuals were amazing," senior Joseph Lam said.
All in all, Star Wars: The Force Awakens was a good movie. It provides a fresh new look to the franchise and has great effects. It may have had the same plot as the first one. However, I can't really imagine another way for it to go. It was a good movie and I give it an A+.