Donnie Darko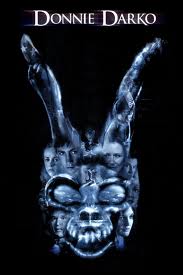 Title: Donnie Darko
Release Date: January 19, 2001
MPAA Rating: R
Director: Richard Kelly
Stars: Jake Gyllenhaal, Jena Malone, Maggie Gyllenhaal, Drew Barrymore, Patrick Swayze
Our Rating: A
The movie entitled Donnie Darko is based on an unstable teen who is visited by a tall rabbit figure. However, Donnie, the teen, only imagines this rabbit figure who tells him that the world is ending in 28 days. Donnie then awakens to find himself alongside his bicycle in an unknown area; he had been sleep walking/biking. He returns home only to find that the engine of an airplane had mysteriously crashed through the roof of his house and landed in his bedroom right where he had been sleeping. If it weren't for him sneaking out under the power of Frank, the rabbit, this engine would have killed Donnie Darko.
"I think the concept of the movie is difficult to wrap your mind around, but once you do get it, you love the movie even more," freshman Roxy Rico said.
Darko is constantly revisited by this rabbit who somehow lulls Darko into "sleep walking." Under this strange spell, he commits crimes exposing certain people for their shocking and unexpected wrongdoings and lies. Darko, therefore, begins to develop an interest in the theory of time travel and parallel universes, and decides to ask some of his teachers about their own theories. He is referred to The Philosophy of Time Travel, a book recommended by a very old woman known as "Grandma Death." Darko also experiences some personal things, such as meeting a new girl at school and forming a special relationship with her. Still, Darko must find a way to understand this "doomsday" situation and figure out a way to control it.
"I think it [Donnie Darko] really defines how everyone has a bit of bad inside of them. Everyone sins, even if it's done secretly. Everyone has some sort of negative energy inside of them even if they can't truly see it," senior Ron Leiferman said.
Donnie Darko was a movie filled with really interesting and, at times, comical scenes. Its uniqueness makes it a must watch for those who love mind-bending, science fiction movies.