Top 5 School Lunches Ranked
Number 5- The One-Pot Spaghetti
The one-pot spaghetti, served exclusively at the new cafeteria in building nine, is always a student favorite. Those that know about the luxury of the food served in the new cafeteria, always race into the building to see if this pasta is being served. Mixed with minced beef, gooey cheese and rich tomato sauce, this dish is a perfect combination of flavors. An added plus to this option is the fact that the cafeteria ladies always serve this dish in large portions, which never disappoints hungry students. If more Cavaliers knew about this delectable dish, the one pot spaghetti would be higher on the list, but nonetheless it definitely marks its spot on our top five best foods.
Number 4- Chicken Tenders
The classic staple, chicken tenders are always available as a lunch option and are usually a safe choice if you are looking to calm your cravings. This dish offers all the great components of a proper lunch meal; the crispy breaded outside and soft tender inside always satisfies when served with a side of ketchup. While some of the other chicken options in the school seem a bit questionable, the chicken tenders never disappoint and are usually even good enough to leave students wanting seconds. The most basic of all the lunch options, as a fan favorite, chicken tenders just had to earn a spot on our top five. 
"The chicken tenders are my favorite option! Even when the cafeteria runs out of ketchup, the tenders are tasty enough to eat on their own," junior Joaquin Breslin said.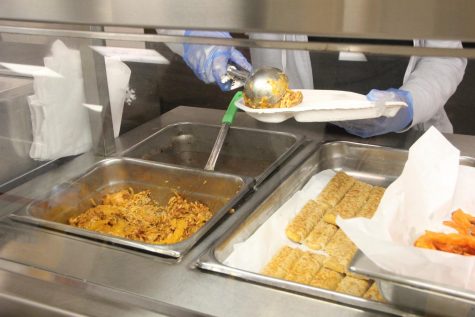 Number 3- Asian Chicken
While nobody really knows exactly what this dish is called, it has earned the common name of "Asian chicken" across the school. Small breaded pieces of chicken drizzled with a sweet sauce on top, this meal undoubtedly deserves a mention as our third place ranking. The chicken is always juicy, a quality that is hard to come by in the other poultry-based meals the school offers. Usually served with a side of fries or rice, this dish is a favorite at Gables. These sweet and savory nuggets of chicken always manage to hit the spot when lunchtime rolls around. 
Number 2- Garlic Knot  
This next dish is usually served as a side, but it is so good that it deserves its rightful spot as runner up to first place. A great side to any meal, the garlic knot has a taste and texture comparable to the fresh bread of an authentic Italian restaurant. When served warm while the butter still glistens on the surface of the bread, the first bite you take makes you forget the reality that this is school lunch, proving that the assertion that all school lunch is comparable to frozen dinners is not always true. One of few types of bread the school serves that always manages to feel soft and doughy, the garlic knots pull apart perfectly when students dig in and take their first bite. MDCPS should really consider offering a meal that makes the garlic bread the star of the dish.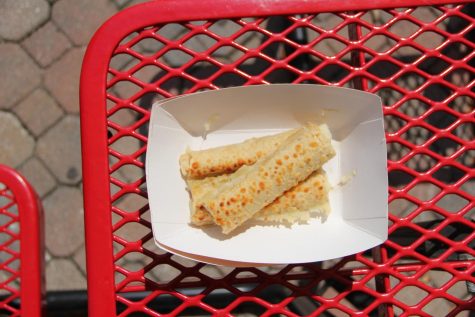 Number 1- Cheese Sticks 
The cheese sticks are an immediate student favorite, running out almost faster than they can be served. Cheese sticks are the most consistent in flavor, having the perfect blend of baked dough and mozzarella cheese. If you have first lunch, you are even luckier since the cheese sticks — and any other food served — are still at their freshest point, making them taste like they just came out of the oven. Some prefer to dip this treat into the marinara sauce provided by the school to improve the flavor profile even further, while others are content with simply enjoying them in their natural state. Due to their consistency, popularity and overall flavor, cheese sticks would most likely be at the top of most students list of favorite cafeteria foods. MDCPS takes home a win with this meal. 
"The cheese sticks are phenomenal…the melted cheese inside and crispy outside are just too good to be true. Gables really went all out with this option," sophomore Lucas Paez said. 
Arguably every students favorite school "period", lunch time at Coral Gables Senior High never fails to meet high standards.  These top five lunch options have been deemed the best by fellow Cavalier students, and always manage to debunk the well-known stigma that comes with eating school lunch.  
Leave a Comment
Your donation will support the student journalists of Coral Gables Senior High School. Your contribution will help us cover our annual website hosting costs.