Dunkin' Donuts: Holiday Edition
Before every upcoming season, different restaurants introduce their yearly seasonal menu, catering to the flavors popular during that time. Starting off the season strong, Dunkin' Donuts began offering their new holiday menu with the most festive flavors to really ring in the seasonal spirit. Though they all sound extremely appealing, how do they really add up?
---
Iced Gingerbread Latte
Our Rating: A+
Price: $3.50 (small)
It is quite unfortunate that this drink is not available all year round, because it is certainly one of Dunkin's best items. With nutty notes but yet a perfect sweetness, the flavor is balanced and not too strong. This latte is not as overly sweet as many of their drinks are, making it completely enjoyable the whole way through drinking it. The spice added to give off the gingerbread flavor is not overpowering but rather quite perfect, providing all the seasonal flavors without tasting over-concentrated. Overall, Dunkin's Gingerbread Latte is absolutely amazing, perfectly balanced with a delicious taste.
"I think the Gingerbread Latte sounds so swag. I would totally try that," sophomore Matteo Rocha-Chavez said.
Iced Sugarplum Latte
Our Rating: F
Price: $3.50 (small)
In accordance with all of its reviews, this drink was a huge disappointment. Most of the reviews for this drink were spot on, describing it as tasting like cough medicine, fake grape and all. With just one sip, this latte becomes undrinkable, filling your mouth with what tastes like an edible air freshener. The bitter yet indescribable sweetness of the drink is quite repugnant. Ultimately, this drink tastes like what one would imagine perfume to, making it completely intolerable.
Iced Peppermint Mocha Latte
Our Rating: B+
Price: $3.50 (small)
Also a top contender for one of their best holiday items, Dunkin's Peppermint Mocha Latte is quite delicious. Because peppermint is such a winter staple, this drink truly gives off all the holiday vibes, making it perfect for this season. However, it is a little on the strong side. The peppermint comes through very prominently and can be quite overpowering for people who are not the biggest fans of a strong peppermint flavor. The chocolate notes are also pretty bitter, but it compliments the peppermint well, so it really is not a bad thing. When ordering this drink, for a lighter taste, it might be a good idea to ask for one shot less of the peppermint mocha flavoring if a heavy drink is not the ideal vision. Overall though, this drink is really enjoyable and pretty perfect for the holiday season.
"Looking at Dunkin's new holiday menu, I would love to try the Peppermint Mocha Latte because nothing feels more like Christmas than good old peppermint," sophomore Sofia Rodriguez said.
---
Though both the Gingerbread and the Peppermint Mocha Latte were pretty great, this holiday season might not have been the best for Dunkin's seasonal menu. This year, Dunkin' Donuts only came out with three drinks, giving Dunkin' customers less options to choose from. Not only did they cut back on the amount of new items, but one of the three options was pretty terrible, limiting customers' options even more. Dunkin' also omitted their Eggnog Latte this year, leaving many people quite disappointed. With no seasonal baked goods added and a limited drink menu, Dunkin's 2020 holiday menu is not one of their bests. However, out of their given menu, their Gingerbread Latte and Peppermint Mocha drinks were very enjoyable, making the trip to Dunkin' worthwhile.
About the Contributor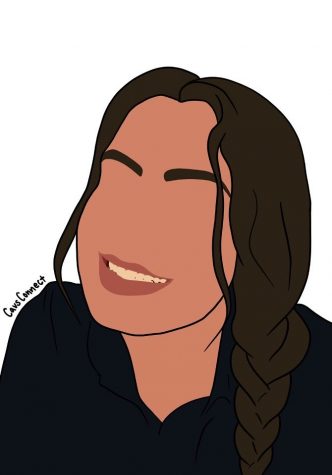 Mia Cabrera, CavsConnect Staff Writer
Mia Cabrera is a sophomore in the National Academy of Finance, joining CavsConnect for her first year as a staff writer. Although academics are her first...