Disney's Mulan: Old Story, New Issues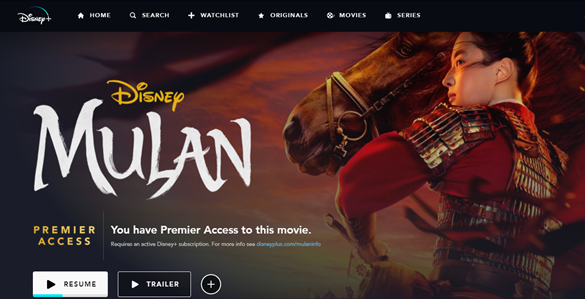 Last week, on Sep. 4, Disney finally released their much-awaited recreation of Mulan. This new version is vastly different from its predecessor, which was released twenty-two years ago. However, despite the film's long-time status as many Disney fans' favorite, many are unhappy with the changes made to the film. Disney is also under attack for the $30 they are charging fans to watch the movie, characters' costumes and actions and for collaborating with Xinjiang authorities to create it.
The new edition of Mulan has come with significant changes to the list of characters, an altered ending and the removal of the songs that movie-goers have always loved. Characters missing in the new version are Mushu, the heroine's dragon sidekick, Mulan's grandmother, Cri-Kee, the protagonist's lucky cricket, and Li Shang, previously her commanding officer and love interest. As replacement for these characters, new ones were added in; they are a phoenix, a spider, a soldier named Cricket, a sister for Mulan,
Commander Tung, Mulan's new commanding officer, and Honghui, her new love interest.
A new female antagonist has also been added in, Xiannang, who, like Mulan, can also use chi to her advantage, an idea not included in the original. The other antagonist has also changed; previously Shan Yu, Böri Khan is a Rouran fighter not only looking to capture China, but also wanting to avenge his father. Like the characters, some minor plot details and the ending have also been edited. Finally, Disney has decided to drop the original movie's songs from this new version. Instead, throughout the movie, lines from these songs can be heard in dialogue and tunes from the songs can also be heard faintly in the background.
All these changes, especially the loss of beloved characters and music, have caused disappointment among some fans. Understandably, the songs and certain characters are what makes the movie so enjoyable for many, and many have taken to Twitter to express their opinions. Many say that although the changes sadden them, they will still be watching the movie.
"Mulan was a pretty great movie in my opinion, despite what the critics are saying. I like that it didn't follow the animated version exactly and gave it their own little twist because what's the point in watching a movie that we already know what happens" Junior Pablo Velazquez said.
However, there is a good reason for all these changes. Removing some of the characters and songs was meant to make the movie more like the Chinese ballad it is based on, and to show greater respect for Chinese culture. Additionally, making Mulan's love interest and her commanding officer two separate characters is more appropriate as for some it seemed like their relationship was based on the fact that he was her commanding officer. It is meant to be a show of support for the #MeToo movement, especially for those who have experienced workplace assault.
Besides this, some Chinese people have pointed out that although Disney tried to make every element of the movie as Chinese as they could, some of the costumes and make up are not very traditionally Chinese. For example, many said the makeup worn by the women in Mulan looked more like that worn by a 17th century Western woman than a Chinese woman between the years 386 and 589. Some also said some of the armor worn looked like Japanese armor from the Warring States period, not Chinese armor. Others pointed out that even the furniture came from after the time in which the movie was set. The movie is also facing criticism for including Chinese stereotypes, such as being unable to speak English, and Japanese ninja moves.
In addition, Disney charged viewers a hefty amount to watch the movie. For the time being, the movie is only available on Disney+, which costs $6.99 a month, which is a reasonable price. However, for Mulan specifically, members will have to pay an additional $30. Many feel that $30 is too much for an on demand movie, especially when it is added to the monthly fee paid by viewers. Yet others say that it is not that staggering a price; for a family with children, $30 is less than the price of movie tickets, and purchasing the movie allows for watching it several times.
"I understand Disney is trying to make money during quarantine, but having us pay for the membership and $30 to actually see the movie is messed up, especially since the movie is alright" sophomore Mary McCarthy said.
Probably the biggest problem with the production of Mulan, was the involvement of Xinjiang authorities, specifically the Turpan Municipal Bureau of Public Security. Parts of the film were shot in Xinjiang, and to make matters worse, Disney thanked them in the closing credits of the movie. Xinjiang authorities have been determined by the US government to be violating civil rights by keeping as many as 2 million Uyghurs and other minorities in re-education camps since 2015, which authorities there deny. This has caused tremendous backlash on social media since the movie's release.
Activists are now asking Disney to release a complete list of all the organizations they partnered with to produce the film. Many are also calling for a boycott of the movie. This is not the first time the movie faces a potential boycott; back in August of last year, Hong Kong activists suggested a boycott of the movie when the lead actress, Liu Yifei showed support for police who had been using excessive force when dealing with protestors. The movie has not been released in China yet, and it is very uncertain whether or not the film will do well there. Disney is yet to comment on the situation involving Xinjiang.
All in all, the 2020 version of "Mulan" has certainly been troubled. With its delayed releases, the changes to the characters, historical inaccuracies, and most importantly its involvement with Xianjiang authorities, it seems very possible that this movie could be a fail. However, Disney officials have hinted that it is actually doing very well. People are right to demand a boycott of the movie. Partnering with an agency that is beyond problematic is a serious issue and not something fans should be supporting by purchasing the movie. After all, there is always the older, less controversial version to watch.