Best Shows to Watch With Limited Time: Anime Edition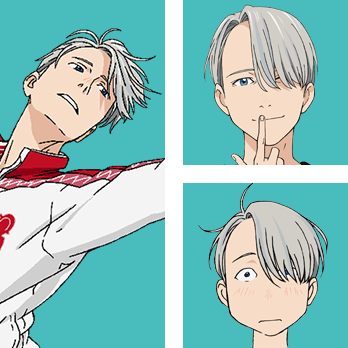 With the start of the school year, students are becoming increasingly busy juggling their personal lives, schoolwork, and clubs. They might not always have the time for longer animes like One Piece, Attack on Titan, or Jojo's Bizzare Adventure. So here are a few short (12 episode) animes to watch in your spare time.

1. "Yuri!!! on Ice"

This anime follows Yuuri Katsuki, a Japanese figure skater who suffered a total defeat at the Grand Pix Final figure skating competition. He returns home debating whether or not to quit the sport. One day a video of him doing professional skater Victor Nikiforv's routine went viral. Victor takes a flight to Japan and offers to be Yuuri's skating coach. This is a very heart-warming story, the music is catchy, you'll get extremely attached to the characters and enjoy the way their relationship grows. Overall, this is perfect to watch for good vibes.

This show is well received and loved by many anime fans. "Yuri! on Ice was amazing. It was my first ever anime… I loved the art. Art is a very big thing for me." freshman Rosibel Garcia said.

2. "Erased"

This anime is about a time traveler, by the name Satoru, who goes 18 years back in time years to prevent the death of his mother. Along the way he realizes that in order to save two others from the hands of the serial killer. This is a murder mystery plus a time traveling fantasy. If you like psychological thrillers, this is the perfect anime for you. You get very clear insight into the thoughts of the main character and the art is extremely beautiful and well done.

"Erased is sooo good. The plot is amazing… it was really because I didn't know what would happen next." freshman Rosibel Garica said.

3. "Devilman Crybaby"

High schooler Akira Fudo is told by his best friend Ryo Asuka that demons are reviving and plan on taking over the human world. In order to stop this threat, Ryo suggest that Akira himself turn into a demon. Akira becomes the "Devilman," a demon with a human heart.  This anime has a very unique art style that sets it apart from similar shows. The show's music is also incredible and fits certain scenes perfectly.

This anime was also well received by the masses.

"Devilman Crybaby is a great anime to me. The visuals are great and the soundtrack is amazing. The story and characters were extremely well written, Especially the friendship and conflicts between akira and ryo, for an anime that's short it's a great recommendation," freshman Kaleb Laren said.

"

Personally, gorey animes are my favorite to watch, which is why I love Devilman Crybaby so much."

— Rocio Lopez

4. "The Devil is a Part-timer"

The anime follows the story of Sadaou Moau, the demon king who tries to invade the world of Ente Isla. However Hero Emilia stops him and forces him through the portal in the human world. Before he can return and try once again to conquere Ente Isla, he gets a part time job and the fast food joint MgRonald's. "The Devil is a Part-timer" is a hidden gem. It is funny, it is different and a very a nice surprise. The story flows nicely and it is executed in an interesting, unforgettable way.