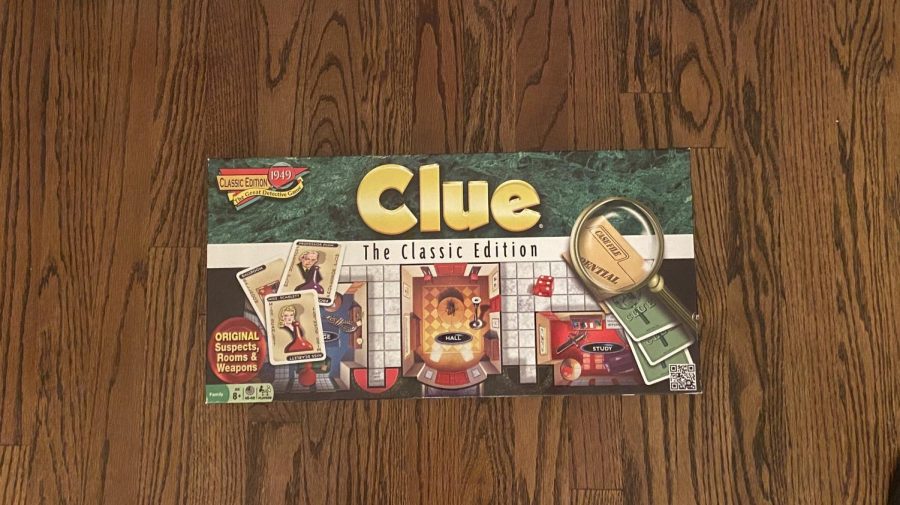 Ana Capiro
  The Tudor Mansion, eerie and silent, is the place of Mr. Boddy's murder. Long empty corridors and the many rooms of the house, with their secret passages, hide the truth of what happened. Could it have Colonel Mustard with the knife in the Conservatory, perhaps it was Miss Scarlett with the revolver in the Cellar, or maybe even the unthreatening Ms. White with a wrench in the Library. 
"The game always brings out a really competitive spirit among my family and I. We all want to be the first to solve the case and it gets really intense. It never gets boring because you constantly have to be thinking ahead," senior Alexa Riedmiller said.
      Sprawled out in front of you, the board game Clue depicts the layout of a murder filled mansion. Each and every player is a detective searching to find who is responsible for the cold-blooded killing of Mr. Boddy in his own home. Notepad in hand, you must piece together hints and travel with every turn in order to create a clear picture of the crime scene. Opponents are not friends, but potential culprits and witnesses that you must question to your favor. No one is innocent until the murderer is found. 
"I've mastered this game and win basically every time I play with my friends. I think part of what makes it such great game to play is the fact that you get better at solving the case each time. It takes a lot of thinking, so its definitely not a passive and easy game to play, you have to be really on top of everything going on on the game boars and taking notes," freshman Diego Garcia said.
       Stuck at home in the monotony of quarantine, Clue is a chance to be enthralled in something besides the uncertainty that surrounds us. With parents, siblings and even friends online, you can spend hours being a detective in this never-ending case. The classic detective game is timeless for a reason. The competition and pressure of Clue is unparalleled, combined with its inherently logic based approach, creates a game you can play over and over again with a different outcome each time. Honing your skills in interrogation and critical thinking, you'll find endless entertainment in the walls of the english country house where you will roam in search of the location, weapon, and perpetrator of the crime.