The Apple of my Spotif-eye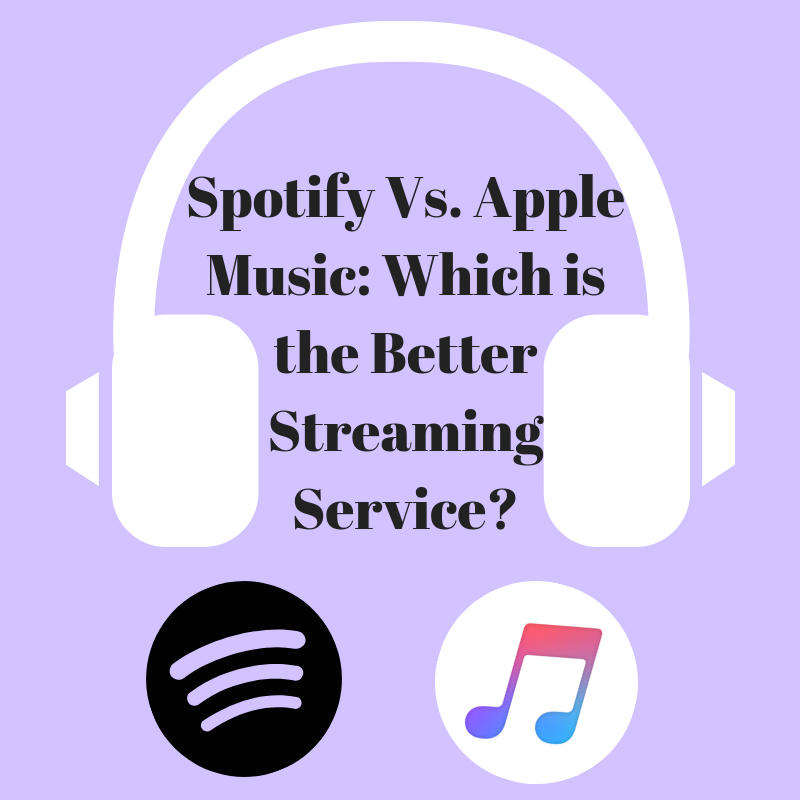 Our Rating: Apple Music: B+, Spotify: A
In the past years, music streaming services have become increasingly popular; many teens listen to music daily and don't see the point of buying every song they want to listen to, especially if there are affordable or even free ways to enjoy the music like using streaming apps. There are many different apps to choose from, but the two most popular by far are Spotify and Apple Music.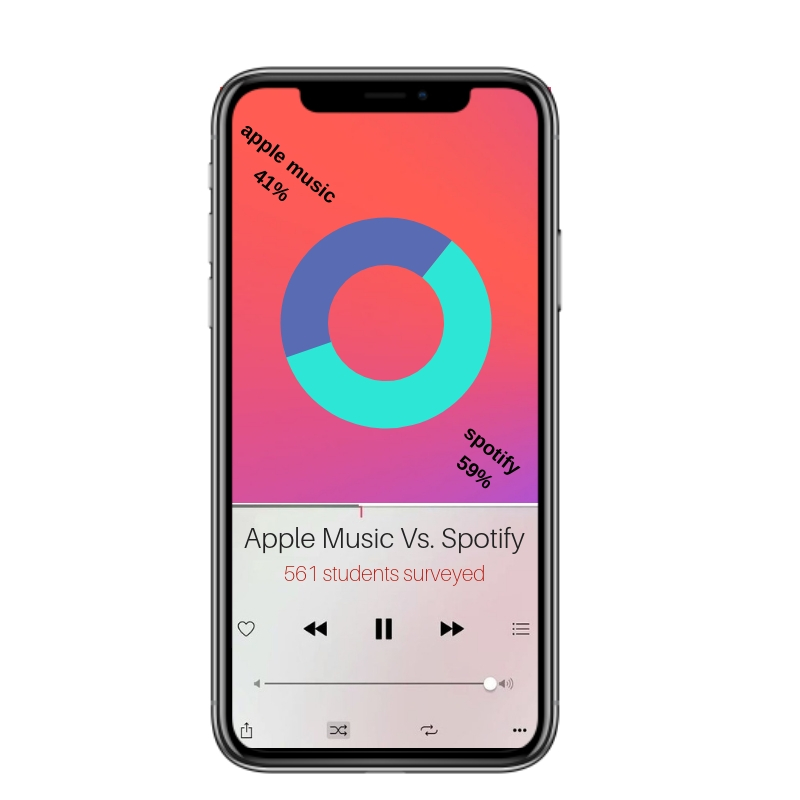 Features
Since its launch in 2015, Apple Music has provided people with 45 million songs to stream from all over the world. This service allows users to stream a multitude of artists as well create DJ radio stations that are ad-free. On Apple Music, you can create your own playlists or search for the exact song you want to listen to. While listening, you have unlimited skips and can click any song in an album and many artists have been signing deals with Apple so that their songs can only be streamed through their platform. Apple Music offers three different plans: student, individual, or family (up to six profiles). A major downside is that only people with Apple devices or devices that use Google Play can use this streaming service, which excludes Samsung users.
Spotify can be downloaded on smartphone or tablet, and if you have the premium plan you have full access to approximately 40 million songs, all available for download so you can listen without using data. With Spotify Premium, users can listen to songs without any advertisements and skip or choose the song they would like. Spotify also has a free option, where you have access to all the same songs, but skips are limited and one cannot pick out specific songs. Instead, you can simply create a playlist with all your favorite songs or just shuffle an album. Spotify also offers playlists for every genre, as well as stations specifically tailored for you. Despite carrying fewer songs than Apple Music, Spotify caters to almost all devices and offer a free plan.
Winner: Spotify
"I prefer Spotify because you can play your music anywhere. With Apple Music, you can only play your songs on Apple products. I've had my same Spotify account for five years because I can transfer it from device to device and even access it from public computers. I can also share my music and account with others which is great," sophomore Alina Astacio said.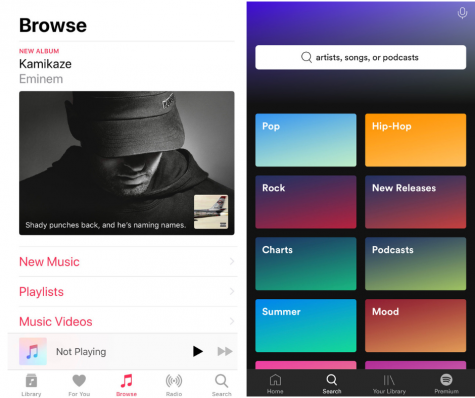 Pricing:
Apple Music does not offer a free plan, but they do have three other streaming plans. There is a free three-month trial for new members;  and after, the different plans include the student plan ($4.99 per month), the individual plan ($9.99 per month) and the Family Plan ($14.99 per month).
Spotify does have a free plan, but they also offer bundle plans for college students: for only $4.99 per month, students can receive Spotify Premium, Hulu and Showtime. Spotify's individual premium plan is $9.99 per month, and the Premium bundle which includes Hulu is $12.99. After the 30-day free trial, Spotify may offer deals such as $0.99 for the first three months of the premium plan.
Winner: Spotify
"I have a Spotify premium membership and I really like how it helps me go through my day with music I love, while Apple Music t just doesn't work for me personally. I believe that it is worth paying the Spotify premium plan because there are a lot of advantages and you don't have to go through interruptions like ads," freshman Joana Ricalde said.
Overall, Spotify is less exclusive than Apple Music and their different bundles do make it a worthwhile purchase. The deals that they offer are worth the price and you save money by choosing their free plan. Occasional shuffling is well worth the quality and affordability of this streaming service.
About the Contributor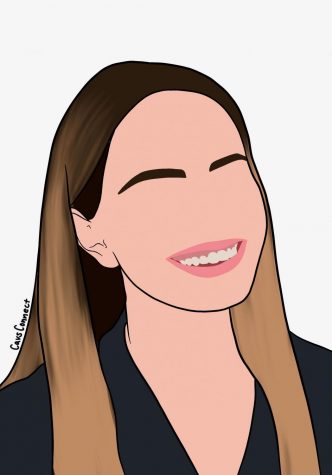 Maia Berthier, CavsConnect Co-Editor-in-Chief
Maïa Berthier is a junior in the International Baccalaureate program at Coral Gables Senior High. This is her third year in CavsConnect and as one of...