Apple TV vs. Amazon Fire Stick
Our Rating: Amazon Fire Stick: B+, Apple TV: A
In recent years, streaming services such as Netflix and Hulu have granted users the ability to watch their favorite shows or movies at any time, as long as they have stable internet connection. As more users begin to cut the cord on pricey cable plans and switch to streaming, digital media players like the Apple TV and the Amazon Fire Stick, have surfaced left and right. When choosing a media player, it is easy to become overwhelmed with all the features these devices offer. To help serve as a guide to picking the optimal device for your home, below is our analysis of the two media players and their wide array of attributes.
Features:
Amazon: The second-generation Fire Stick operates on FireOS, an Android-based operating system produced by Amazon, so it can open and run any app that could be found on the Play Store. In addition, Amazon Prime members can use every benefit available to them on other devices, including unlimited streaming of movies an TV shows, unlimited photo storage, and ad-free music streaming. However, the Fire Stick does have a few downfalls. Alexa, Amazon's voice assistant, only completes actions made on the home screen and major apps, e.g. Netflix, Hulu, and Amazon Prime Video. Furthermore, the Fire Stick lacks an app for phones to be used as a remote, which serves as an alternative to buying a new remote, if you were to lose the original.
Apple: The fourth-generation Apple TV runs tvOS, Apple's operating system which rolled out with the 4th generation TV. Any app found on the App Store may be downloaded onto your TV (if the app developer has made it available for the TV). If you own another Apple device, you may mirror its display to the Apple TV through AirPlay. Members of Apple Music can also stream their music or any other iTunes Store purchases through the TV. Siri is loaded with hundreds of commands, allowing the viewer to do anything from finding a movie's ratings ("What's this rated?") to rewind a few seconds and enabling captions temporarily to catch what was said ("What did she say?"). The Apple TV comes with a remote app for iPhones which includes all the buttons and gestures recognized on the original remote.
"I think the Apple TV is easier to use because a lot of people have Apple accounts, use iTunes, and make purchases on the App Store, and the setup time is much shorter than the Fire Stick's, but I'd like to be able to store multiple iCloud accounts on the same device," senior Leonardo Ayala said.
Winner: Apple TV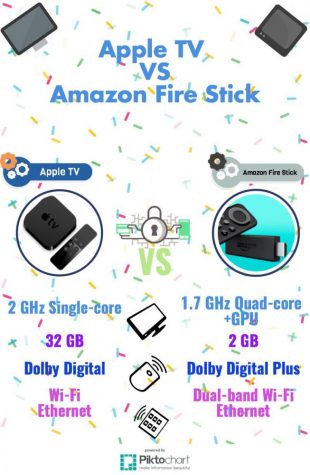 Performance:
Amazon: The Fire Stick is exceptionally swift to navigate menus and open apps, and when combined with its smooth playback and lack of buffering, it provides the user with a delightful viewing experience. Its tidy and uncluttered interface gives priority to apps which were recently used, and provides suggestions on what to watch based on your preferences. The Fire Stick proves to be a remarkable addition or replacement to your TV– that is, until most of its storage is exhausted. Its 8-gigabyte storage is abundant enough if you plan on solely using Netflix or Hulu, but if Kodi (a free open-source media center) is added, it can begin to hinder the Fire Stick's response and loading times.
"I like the Amazon Fire Stick because it has a lot of options for streaming, including my preferred streaming service, Netflix. A thing I would change is the streaming options because I would like to see more recent movies," senior Marissa Singer-Rosenberg said.
Apple: The Apple TV is equipped with the Apple A8 processor, the same one found in the iPhone 6 and 6 Plus, providing 2 gigabytes of RAM as opposed to the Fire Stick's 1. The Siri remote's new trackpad works similarly to the MacBook's, recognizing the same gestures used to scroll through options and make selections in addition to the varying application of pressure in 3D Touch. With a 32-gigabyte storage capacity, the Apple TV can house dozens of games and apps before it shows any indication of slowing down.
Winner: Apple TV
Value:
At only $39.99, Amazon Fire Stick is the clear winner here, but if you own at least two other Apple devices, investing $149.99 in the Apple TV could make your viewing experience a lot more convenient. The Fire Stick offers the best value because most owners of digital media players use them for the same streaming apps, but if you plan on having your device replace a gaming console or cable box, the Apple TV may be the wiser purchase due to its higher storage capacity. The current Apple TV doesn't stream in 4K, but in September, Apple will unveil the next generation TV, which will feature 4K and HDR (High Dynamic Range imaging) support.
Winner: Amazon Fire Stick
Although the Fire Stick is the much cheaper option of the two, the decision the buyer must make ultimately comes down to two factors: the system in which they're immersed, and how long a consumer is willing to wait to watch a show or movie. An owner of an iPhone, a MacBook, or an iPad would have good reason to buy the Apple TV due to the ease of mirroring their screens to the TV, along with having all iTunes Store purchases available to access on the TV. On the other hand, an owner of at least two Android devices or an Amazon Prime membership could benefit from the Fire Stick in the same manner. Moreover, the option to download the Kodi media center gives the Fire Stick the ability to see more recent shows and movies for free, whereas Kodi's installation on Apple TV is an arduous process, as it's not available on the App Store.
About the Contributor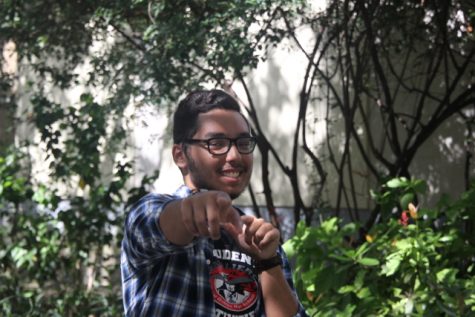 Eric Jimenez, Staff Writer
Senior, Eric Jimenez, in the National Academy of Finance at Coral Gables Senior High, is ready to enjoy his last year in high school by becoming as involved...