Google Pixel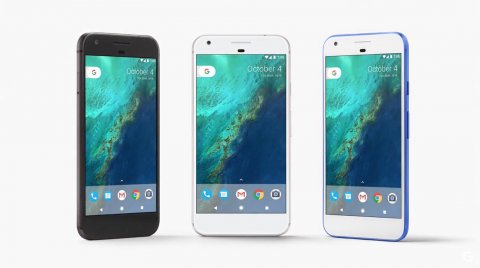 Our Rating: B+
Starting Cost: $649.00
Carrier: Verizon
Recently, Google has announced its new phone, the Google Pixel. It will be released Oct. 20 and is available for pre-order. This is the tech giant's first independently made phone, and it has received overall positive reviews from users.
In fact, the only place where Google Pixel seemed to fall short was in its processor, which is two 2.15GHz and two 1.6GHz Quadcomm Snapdragon 821 processors (for reference, the iPhone 7 A10 processor has a clock speed of 2.23GHz).
"I think it's gonna sell well because Google is such a big company and has such a good reputation,"  freshman Angie Matute said
However, in all other aspects Google Pixel beat out the iPhone 7. For example, the 7's 12 megapixel camera is outplayed by the 12.3 megapixel camera on Google's phone. It also has Google Assistant built in, which is basically an improved Siri that seamlessly answers your questions with information taken from Google. You can ask it to call you an Uber, book a table, or find information on your flight and hotel while traveling.
Something people find annoying about iPhones is the limited storage. On the iPhone 7, you have a maximum limit of 256 gigabytes. This is greatly limits the amount of apps, photos, and videos, a user can have. The Google Pixel solves this by having unlimited space with the help of a free Google account.
"
I think that Google and Android in general have a history of being unreliable in making phones, and the fact that they are such large and well known companies only keeps this going, as people will just blindly trust them."
— Angie Lopez
Finally, the version of Android it runs is a cleaned-up edition of the recent android OS. Take for example the Google search bar that previously took up a large part of the upper home screen. Now, it's a discreet button that's easily accessible from the home screen. In other words, it's like an exquisitely blended mixture of Android and iOS, which is basically what the phone is as well; it combines Apple's sleek design into Samsung's and Android's OS and display system. This amazing new phone is only available through Verizon, which will likely cut into the phone's revenue and success.
The Google Pixel is an extraordinary new smartphone that outperforms its competitors in all but one aspect. It has added amenities like unlimited storage and built in Google Assistant that make it easy to use. Its software gives it the clean feel expected from Google, and its hardware makes it seem almost Apple-like. With its fresh new design, it is likely to be the biggest seller of the season.
About the Contributor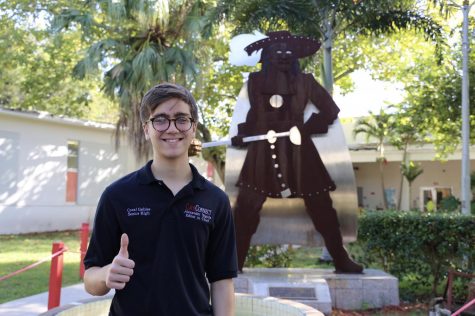 Alexander Yagoda, Co-Editor-in-Chief
Alexander Yagoda is a senior in the International Baccalaureate (IB) program at Coral Gables Senior High School and is excited to start his fourth year...