Dew You Dare?
Rating: B
Mountain Dew is one of the world's most popular drinks. Recently, PepsiCo has partnered up two of its greatest products to create a new flavor that no one has ever expected. The new flavor, called Dewitos, is a combination of the original Mountain Dew soda mixed with Original Cheese Doritos. Dewitos has not been produced yet, but is currently in testing mode. The date set for Dewitos to hit the stores is around Jan. 9, 2015. PepsiCo is trying to create a new, wild flavor that everyone will seem to enjoy despite how crazy it sounds.
The concept of Doritos in liquid form is not the craziest idea that has happened. A common stereotype of gamers includes pictures of them sitting on the couch, blasting away at baddies while chugging Mountain Dew and motoring through a big bag of Doritos. This new soda combines the two into a convenient delivery system for caffeine, sugar and artificial cheese. It also helps that PepsiCo owns both the Mountain Dew and Doritos brands.
"This sounds tasty and unhealthy at the same time. I'm glad Mountain Dew came up with a new flavor, but I'm not so sure how this one will taste," freshman Ashley Cedano said.
Although these products have been very successful individually, there is a lot of doubt and uncertainty about this combination. A few things to consider: the title is very attention grabbing, but doesn't sound very tasteful; since Doritos' main flavor is cheese, it's likely the drink will be liquid cheese. Ultimately, only time will tell how the success of Dewitos pans out.
About the Contributor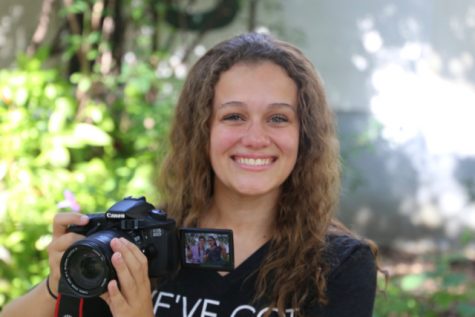 Cameryn Padron, Multimedia Editor
Cameryn Padron is a senior in the IB program. Cameryn is starting her fourth year working for Cavsconnect and her second year as the new Multimedia editor....